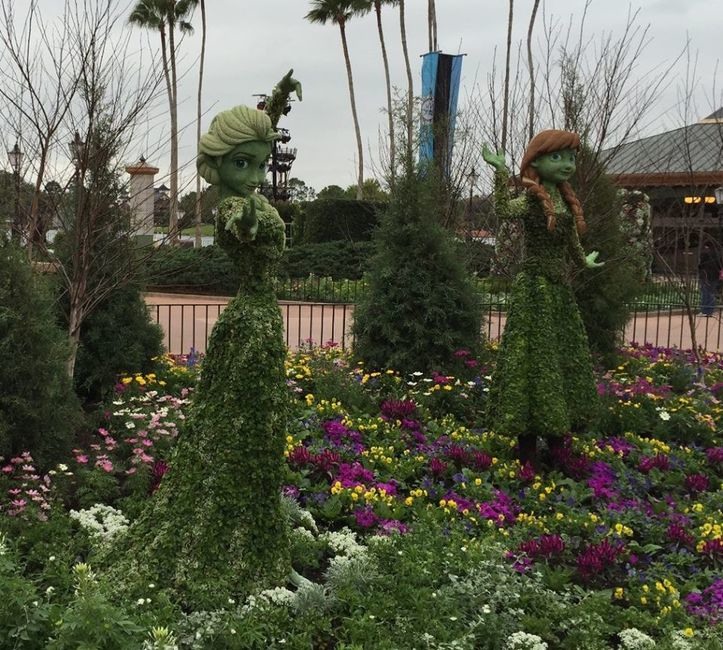 The 22nd annual Epcot International Flower & Garden Festival kicks off today at Disney World. Expect loads of blossoms and topiaries to dot the landscape of the theme park, not to mention learning opportunities and concerts. Here are five things to watch for that we spotted during a sneak preview over the weekend.
The Spring Is in the Air garden, installed right behind Spaceship Earth, there are new topiaries that are a year old. What? The big butterfly topiaries were redesigned to give the impression of flight, not the more rigid flat look previously seen at the festival. They were ready to go last year, but they were bumped for the World Cup-themed bed.
Speaking of butterflies, the Butterflies on the Go garden will have wider sidewalks and go topiary-free in order to make for more elbow room in the popular area. "I don't know that we'll ever not do this garden," says Eric Darden, horticulture manager for the festival. A Tinker Bell topiary will greet guests outside the enclosed garden.
In the "Cars"-themed garden called Cactus Road Rally, Disney has "planted" radiators amongst the greenery. "Some of the guests will get that -- and some won't," says Carla Shuman, a Disney World landscape architect. This section, with a desert Southwest theme, had some damage from the dip in temps, but the affected area was replanted by last week.
The action in the Farmer Mickey Mouse and Minnie Mouse garden has been reversed so that Spaceship Earth is in the background. It's a better picture that way. Also note the viney faces of these characters, a departure from the dried moss of recent years. (Look for extra PhotoPass people stationed at the nearby garden featuring topiaries of Anna and Elsa from "Frozen.")
Behind the scenes: When the threat of freeze arises, the topiaries are wrapped in material from "military surplus parachutes," Darden says.