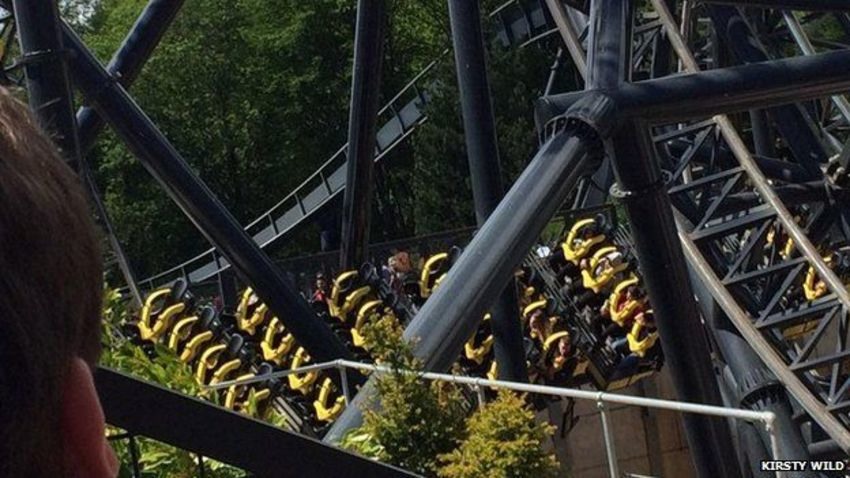 Four people have been seriously hurt in a crash between two carriages on a rollercoaster ride at Alton Towers.
Sixteen people were in one carriage of the Smiler ride; the other was empty. West Midlands Ambulance Service said two men and two women in their mid-twenties suffered "significant lower limb injuries" and were believed to be two couples.
They have been taken to trauma centres in Stoke and Coventry for treatment. Alton Towers said all guests involved were evacuated by 18:35 BST. A director described it as "the most serious incident" in the park's history.
The passengers were trapped for several hours on the ride, about 25 feet (7.6m) above the ground. Eyewitnesses reported hearing "screaming and shouting" and "a loud crash" when the crash happened at 14:09. Ben Richardson said: "When the second carriage crashed people were screaming and shouting - even after it stopped. Everyone around the park ran over. The people looked significantly distressed. It was almost like a car crash, very full-on."
Two women have already been taken to the Royal Stoke University Hospital for treatment. Others have been treated at Alton Towers and hospital trauma team consultants have been working on site.
Sophie Underwood, who was in the park at the time, said: "It wasn't very high but it was obviously high enough for them to cause some quite serious injuries to the people that were on the rollercoaster. They literally had come back off and round the back of a loop, and straight into another empty coach that had been stuck. There was a big crash, and I think there were quite a few people that were angry because they said that they had told the staff that the coach before had stopped but they hadn't actually called through."
The Smiler opened in May 2013 and is billed as the world's first 14-loop rollercoaster. It holds the official Guinness World Record for most loops in a rollercoaster, according to the Alton Towers website. The resort claims it features "a series of twisted psychological effects including optical illusions, blinding lights and near misses designed to mess with your mind". There have been several accidents and incidents involving the £18m ride since it opened in May 2013.