Boss confirms theme park will stay shut until cause of crash established amid reports £18m ride dogged by problems could be scrapped.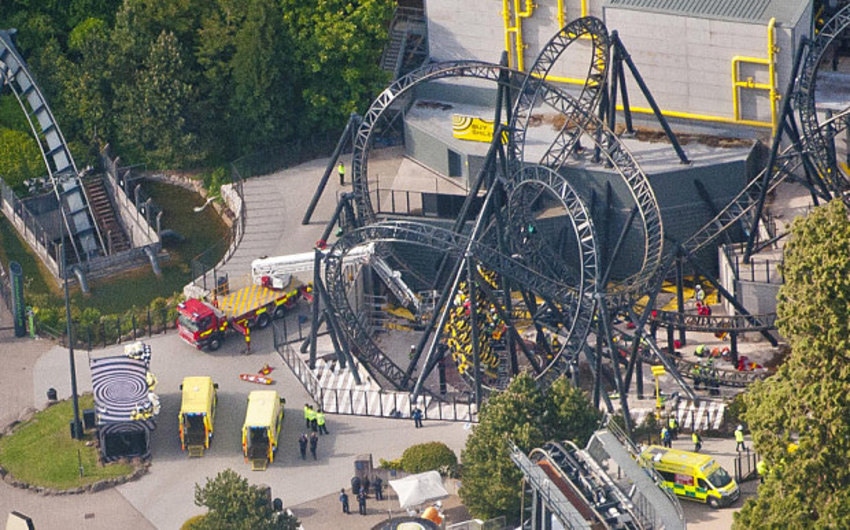 Alton Towers will remain closed until the cause of a rollercoaster crash that left 16 people injured is discovered, the theme park's chief has confirmed as it racks up losses potentially worth millions of pounds.
The attraction's gates are shut for a second day while the Health and Safety Executive continues to look into why two carriages on The Smiler collided, leaving four young people seriously hurt.
Confirmation for the first time that the Staffordshire venue will not reopen until the investigation is complete comes amid reports bosses are said to be considering scrapping the £18million ride, which has suffered a series of problems since it opened two years ago.
It was announced on Thursday afternoon the park will stay shut again on Friday - as analysts estimated parent group Merlin Entertainments loses a little under £500,000 every day the 500-acre resort is closed.
"At this point I don't know if it was a technological or a human error," Nick Varney, chief executive of Merlin Entertainments, which runs the resort, wrote in The Sun on Thursday. "We want to know if this issue is isolated to The Smiler. We can't open again until we're sure." Mr Varney, who described himself as "shell-shocked" following the accident at around 2pm on Tuesday, did not give a time-frame for the park reopening.
Questions have been asked about why The Smiler, which has a record-breaking 14 loops, was operating after it was reportedly repeatedly opened and closed throughout the day due to technical glitches.
Sixteen people were hurt when the carriage they were travelling in crashed into an empty stationary one on a low section of the 50mph ride's track - leaving some passengers trapped 25ft in the air for up to five hours.
They including two men aged 27 and 18, and two women aged 19 and 17, who suffered serious leg injuries.
One is thought to have lost a leg, a staff source said. Witnesses described hearing an "almighty bang" before seeing "blood everywhere".
Two of the victims were named as Joe Pugh, 18, a student at Huddersfield University, and his girlfriend Leah Washington.
Also on board was Vanisha Singh, who was in the second row of the carriage with her mother Chanda, 49, and her 26-year-old sister Meera. She told The Sun there had been "technical difficulties" moments before they embarked on the fateful ride, as several test cars were sent ahead of them. "We finally went up and were kept at the top for 10 or 15 minutes chatting, joking that we were the guinea pigs," the 29-year-old said. Describing the crash, she added: "The metal safety bar smashed into our legs. There was loads of screaming. I felt a burning sensation in my pelvis, and back and neck pain. "It was terrifying. There was blood all over the floor because it was pouring out of their legs in the carriage and dropping down. The doctors and firemen were covered in blood as they scaled the scaffolding to treat the guys on the front row."
Ms Singh, who was sat behind Mr Pugh, said his girlfriend Miss Washington had to be given a blood transfusion and morphine before she passed out following the collision.The Oaks Working Men's Club, in Mr Pugh's home town of Barnsley, South Yorkshire, posted on Facebook: "We would like to extend our prayers and best wishes in the speedy recovery of our barman Joe Pugh and his girlfriend Leah Washington."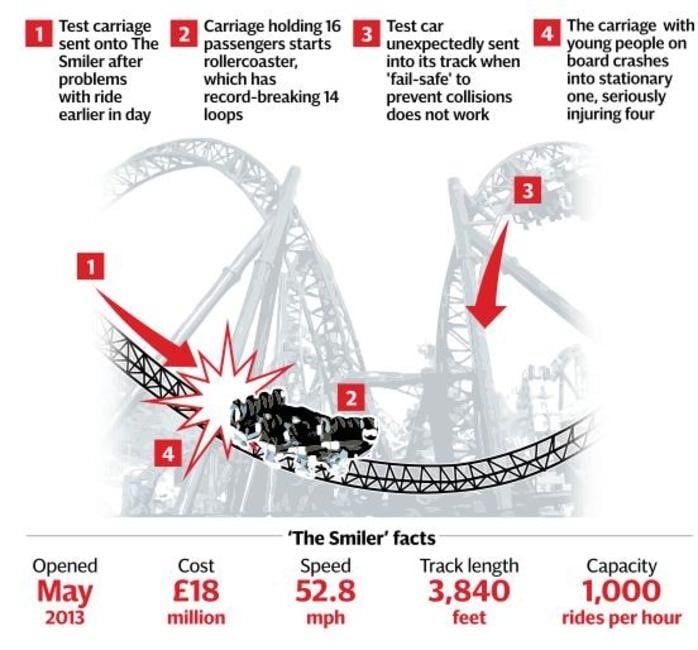 An Alton Towers spokesman said: "The decision has been taken that Alton Towers theme park will remain closed on Thursday following the incident on The Smiler. "Guests with pre-booked tickets and those arriving at the theme park will have the choice of a full refund or an alternative dated ticket. Guests with pre-booked tickets have the option to use their tickets tomorrow at an alternative attraction. See website for more info."
Witnesses described scenes of horror after the collision, with one victim's face covered in blood and others screaming in terror.
Jack Carver, 33, told reporters: "It was like a horror movie hearing those screams. There was pure terror in their voices. It reminded me of Final Destination where the rollercoaster comes off the tracks. It was really scary."
The four people who suffered critical injuries were airlifted to major trauma centres after the 16 occupants were rescued from 25ft up in the air at an angle of about 45 degrees.
Some of the occupants suffered an ordeal which lasted more than four hours, with the evacuation not complete until 6.35pm.
The £18million rollercoaster, which has a Guinness World Record for its number of loops, has been closed twice because of safety concerns since opening two years ago.
In July 2013, it was closed after reports that a bolt was seen to have fallen from the ride and, in November that year, the rollercoaster was closed after plastic guard wheels came loose and hit front-row riders.
Following the accident, Merlin Entertainments was the biggest faller on the FTSE 100, with shares down three per cent.
The firm, based in Poole, has run Alton Towers since buying out previous owner the Tussauds Group in May 2007. In total, the business runs 100 attractions in 22 countries, including Japan, Dubai, Italy and Germany.
The group floated on the stock market in 2013 and has a market valuation of £4.5 billion.
However, Panmure Gordon analyst Anna Barnfather said the incident has come at a crucial time for the theme park, at the start of its busy summer season. She said June accounts for around 10 per cent of the theme park's annual revenues, while the key months of July and August make up a combined 35 per cent of sales across the year.
Ms Barnfather added: "The concern is that this accident will have a knock-on effect in terms of fewer people coming to the park at the height of the summer season."
http://www.telegraph.co.uk/news/uknews/11650536/Alton-Towers-to-remain-closed-as-bosses-consider-scrapping-The-Smiler.html