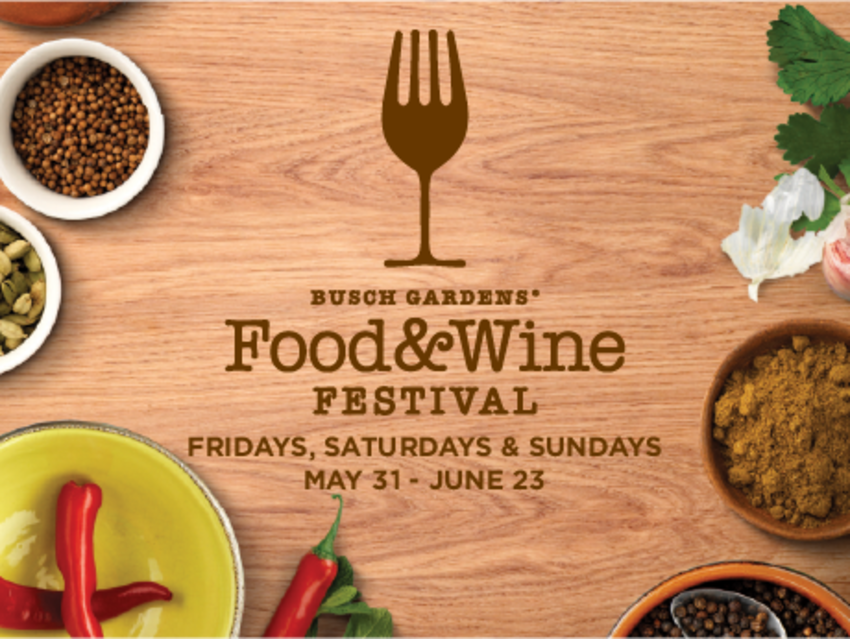 This spring, the Busch Gardens® Food & Wine Festival is feeding guests' appetites for adventure with wild flavors and concerts for every taste on Saturdays and Sundays from March 7 through April 26.
Busch Gardens invites guests to unleash their inner foodie during the inaugural Food & Wine Festival with an exciting variety of sample-size tastings of delicious cuisine and spirits, tempting taste buds like never before. Plus, the Food & Wine Festival brings together the best in pop, soft rock, Latin, country, contemporary and classic music during live concerts every event day on Gwazi Field.
From comfort classics like bacon mac & cheese to decedent desserts like passion fruit flan, the Busch Gardens Food & Wine Festival feeds guests' appetite for adventure with wild flavors for every taste:
Gourmet Lodge: Explore the exotic flavors of Gourmet Lodge, featuring duck confit, venison chili and other exciting dishes.
Savory Tavern: Tempt taste buds with the rich flavors of Savory Tavern, including coconut shrimp cigars, braised lamb shank and passion fruit flan.
Chef's Plantation: Pan-seared salmon cakes, a griddled cheese cake sandwich and more await your palette at Chef's Plantation.
Coast to Coast Cookery: Flavors of the land and sea come together at Coast to Coast Cookery, featuring hangar steak, bacon-wrapped prawns and more.
Field House Eatery: The Field House Eatery is the Festival's biggest location, offering pan-seared scallops, roasted pork belly and mango éclairs right on Gwazi Field.
Southern Station: Southern Station tantalizes taste buds with shrimp & grits, pan-fried cod and beef short rib.
Comfort Kitchen: The Comfort Kitchen fuses classics like bacon mac & cheese with contemporary eats like habanero shrimp salad.
Light Fare Canteen: Freshen up your palette at the Light Fare Canteen with scallop ceviche and an heirloom tomato & goat cheese salad.
Blazin' Bistro: Blazin' Bistro breaks out the grill for fire-braised pork chops and jerk chicken sliders.
In addition to music superstars Pentatonix, Gavin DeGraw and Fifth Harmony, live concerts include:
Saturday, March 7 - Gavin DeGraw
Sunday, March 8 - Fifth Harmony
Saturday, March 14 - Kool & The Gang
Sunday, March 15 - Boys Like Girls
Saturday, March 21 - Kenny Rogers
Sunday, March 22 - Pentatonix
Saturday, March 28 - Steven Curtis Chapman
Sunday, March 29 - El Gran Combo
And in addition to Busch Gardens' own Executive Chef Ron DeBonis, acclaimed Chef Norman Van Aken, founder of NORMAN'S at The Ritz-Carlton in Orlando, has helped inspire these culinary masterpieces. Fans can find Chef Van Aken during the opening weekend of the Food & Wine Festival on March 7-8. In addition to making appearances throughout the Festival grounds, he will also do a book signing on Saturday, March 7.
The Busch Gardens Food & Wine Festival runs from noon to 9 p.m. on Saturdays and Sundays, March 7 through April 26. Plus, raise your glass to live concerts at 6 p.m. on Gwazi Field. The Festival is included with any pass, Fun Card or daily admission. Food and beverages are available for purchase at an additional fee.