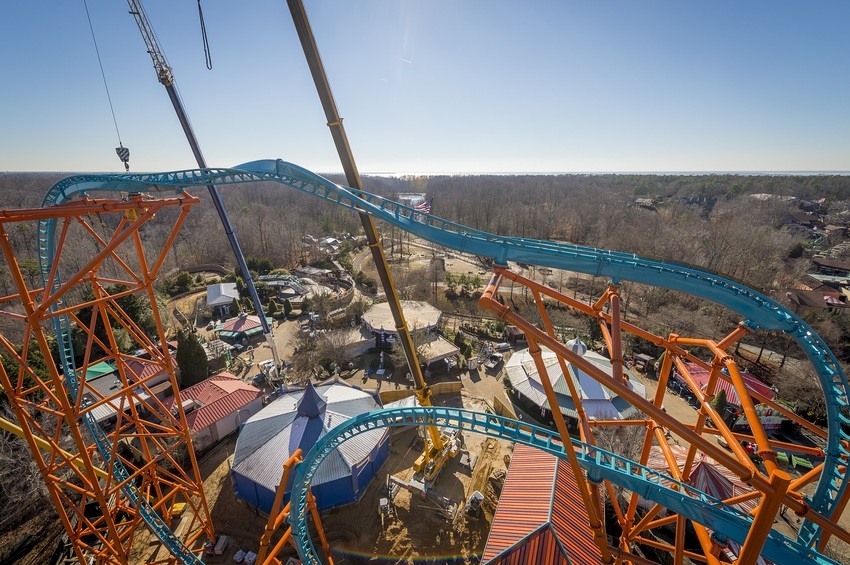 Starting April 25, an Italian daredevil will offer Busch Gardens guests a chance to blast back and forth at more than 60 mph before climbing 154 feet for a complete inversion.
Tempesto, a new roller coaster announced Saturday at the park's annual pass member preview day, is named after an Italian motorcycle daredevil and is set in the Festa Italia section near Apollo's Chariot. The 883-foot ride features three separate launching mechanisms that rocket its riders in wild arcs before the climb to a corkscrew inversion and a large loop-the-loop.
"I'm looking forward to seeing the expression on our guests' faces when they watch Tempesto in action," Park President Carl Lum said in a news release. "The speed of this launch coaster, combined with its compact footprint will make for an exhilarating ride."
The ride is not the tallest, fastest or longest at the park, but it does have the "most action" in the smallest footprint, according to the park's Vice President of Engineering Larry Giles.
"Guests waiting to experience Tempesto will certainly feel its power as the coaster train races past them at highway speeds," he said in the release.
Lum said the new ride is "another addition to what's already a great product" and that he expects the ride to attract more people to the area. He noted how the ride is the latest in a string of new features at the park in recent years like Verbolten, the increased food and wine offerings and the seasonal Howl-O-Scream and Christmas Town.
Work on Tempesto began in the fall. Maryland-based Premier Rides constructed the coaster, whose ride lasts 55 seconds. Nobody under 54 inches will be allowed to ride Tempesto.
Plans for the new ride are as old as Fall 2013, when the park went before the James City County Board of Supervisors to receive permission to build something more than 150 feet tall.
Construction on the ride is expected to be complete within a few weeks, allowing the park's staff to begin testing the ride ahead of its April 25 open for guests.
The park is currently offering the Two-Park Fun Card — which allows unlimited admission through Sept. 7 to Busch Gardens and Water Country USA — for $75 through March 31. The Fun Card typically costs $100.