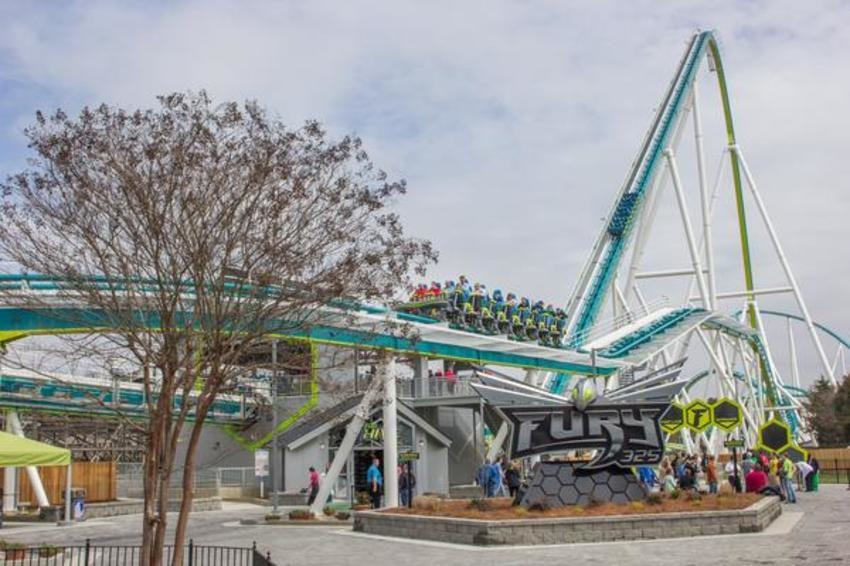 Carowinds gave Channel 9 a preview of its newest, fastest rollercoaster early Wednesday morning -- the Fury 325.
Riders will board one of three 32-passenger open air trains and begin their ascent to the top of a 325-foot tall hill (over 30 stories) followed by an initial 81-degree first drop. The train then races through a series of hills, curves and quick transitions while reaching speeds of up to 95 miles per hour along 6,602 feet of track.
Park officials gave Channel 9 a sneak peek of the giga-coaster in action before the sun came up. The official ribbon-cutting ceremony happened at 11 a.m.
People could place bids to be the first riders on Fury 325. Ninety-six people won rides, and the proceeds went towards the Cam Newton Foundation. Carowinds presented an $18,320 check to the foundation.
"Coming in August, we're going to announce a big splash for 2016," one official said before the ribbon was cut. Fury 325 is part of a planned $50 million multi-year investment to revitalize the park from top to bottom to celebrate Carolina culture.
Fury 325 by the numbers
:
1 - Fury 325 will be the world's tallest and fastest giga coaster
2 - Carowinds will now have two of the tallest roller coasters in North America (Fury 325 and the Intimidator, which is 232 feet tall)
20 - The 325-foot hill stands 20 feet taller than the Statue of Liberty.
63 - Seconds to climb the lift hill. No roller coaster in the world pulled by a conventional chain is taller.
14 - Total rollercoasters at Carowinds. Only three parks in the world have more.
400 - Trucks needed to haul the track pieces for Fury 325 to Carowinds.
33 - Trucks needed just for the equipment to build the 350-foot crane that erected the Fury 325 lift hill.
140 - Tons needed to counter-balance the largest crane used to build Fury 325.
192 - The number of track pieces for Fury 325.
15,500 - Number of high strength bolts used to assemble Fury 325.
50 - Amount of engineers working for over a year on the dynamic design, engineering and fabrication drawings of the ride.
8 - Number of months it took to install the ride.
200 - Amount of skilled workers used to complete the ride.
Renovations include:
A new guest arrival experience – A new parking toll entrance with 900 additional parking spaces will improve traffic flow and complement a new 8.2-acre main entrance plaza.
The SlingShot – This ride will catapult thrill-seekers nearly 300-feet into the air, providing them brief weightlessness, then rotating them head over heels.
New Dining Options - Carowinds new executive chef and culinary team have completely revamped dining options throughout the park with all-time Carolina favorites adding over 45 new menu items this season.
Taste of the Carolinas – Guests will be able to eat, drink and experience the best of what the Carolinas have to offer in this signature new food festival on Saturdays & Sundays, April 18 – May 17.
The park opened last weekend.