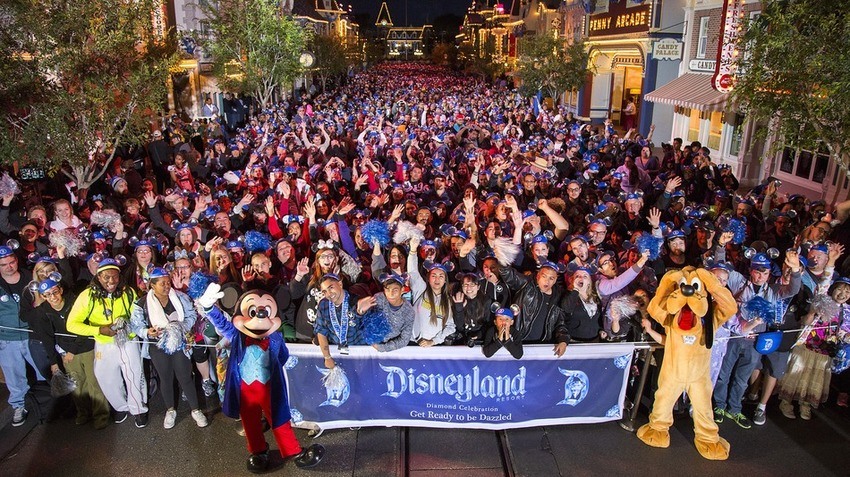 Disney's Magic Kingdom will soon turn 60, but it's proving Friday that it's not too old to party late into the night.
Disneyland opened its doors to some of its most dedicated fans at 6 a.m. Friday, when it began a 24-hour birthday celebration for its diamond anniversary with new attractions planned for guests.
Thousands of people, many wearing Mickey Mouse ears, lined up on Main Street for hours before the opening, waiting to get into the Southern California theme park's 60-year birthday party. "We will make this place our home," said Ian Clarke, who planned to ride every ride with two friends.
A new show, parade and fireworks show were set to debut as part of Disneyland's yearlong anniversary festivities. Decked out in special 60th anniversary trim, Disneyland's new attractions include a remodeled Electrical Parade with over 1.5 million LED lights and a new fireworks show called "Disneyland Forever."
At California Adventure, the Disney park next door, actor Neil Patrick Harris co-hosting an animated history of "Walt Disney's dream of Disneyland" with Mickey Mouse, according to a news release.
"I'm looking forward to the fireworks show and the projections," Shenise Ross said before the park opened. "I'm so excited for that."
Disneyland opened July 17, 1955, hosting 700 million people in the following 60 years, Disney said.