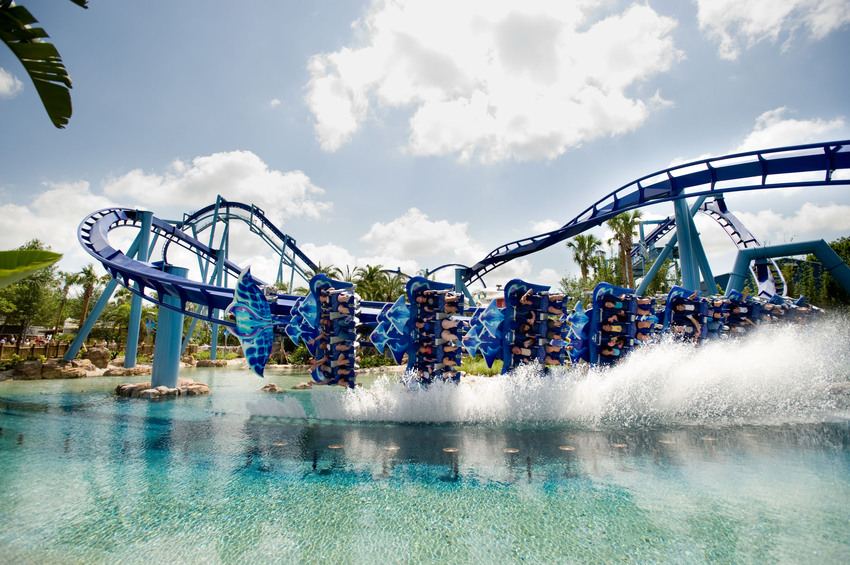 In what could signal a shift in emphasis from marine animals, SeaWorld revealed Friday it will open a 200-foot-tall roller coaster next year at its Orlando park. It's an important step for SeaWorld, which is fighting both negative publicity over whales in captivity and intense competition in Orlando.
SeaWorld gave few details Friday, saying it would reveal more in late May. It said its new coaster would be Orlando's longest, fastest and tallest – although the Skyscraper opening on International Drive in 2017 will soon eclipse it at 500 feet.
Investors appeared to like the news. The stock was up 1.6 percent Friday morning. "Maybe this is a slight step away from....being kind of a marine park," said Michael Erstad, an analyst with ITG Investment Research.
SeaWorld has two other big coasters – Kraken and Manta – but as its name implies, its parks emphasize marine life such as dolphins, sea lions and its signature killer whales. Those whales have become increasingly controversial following the 2010 death of an Orlando trainer and the 2013 anti-captivity documentary "Blackfish." Attendance has declined and corporate partnerships have ended. This week, it was announced that Mattel has stopped producing SeaWorld Barbie dolls.
Orlando's competitive landscape adds to SeaWorld's problems. In the past two years, Walt Disney World revamped Fantasyland and Universal Orlando added its second Harry Potter land. The rivals have a slew of new things coming up, including Universal's King Kong attraction and water park, and Disney's Frozen ride and Avatar land.In response, Erstad said, SeaWorld "had to have something new and refreshing."
The ride should provide "some kind of lift to attendance," said Tuna Amobi, an analyst with S&P Capital IQ. "Sure, it will have some impact. The question is how much, and given it's just one attraction, I tend to be a little more conservative in my expectation and projections." SeaWorld will need to continually invest to keep up with its competitors, Amobi said.
Scott Smith, an assistant hospitality professor at the University of South Carolina, was more skeptical about whether the new thrill ride help reverse SeaWorld's fortunes. "Building a roller coaster is not going to make enough of a splash to offset the competition," he said. "SeaWorld needs to really figure out what their brand is and what it stands for, because it really doesn't stand for rides and roller coasters. Now if they want to switch and become a rides park, we're talking millions, if not billions, of dollars in investment to get them to the level of the Disney and Universal parks."
SeaWorld's last big attraction in Orlando was the Antarctica land in 2013, which featured a penguin ride. Despite that, estimates from the Themed Entertainment Association and the consulting company AECOM show the park's attendance dropped 5 percent that year. "Blackfish" – which focused on SeaWorld – came out a few months after Antarctica debuted.
SeaWorld has had bad timing with the opening of other big attractions. The Manta coaster opened in 2009 during the Great Recession. Attendance declined both that year and the following one, according to the industry estimates.SeaWorld had better luck when it opened Kraken in 2000. Attendance soared that year – 11 percent, according to industry estimates. The following year, SeaWorld's attendance declined – part of an industry-wide slump after the Sept. 11 terrorist attacks.