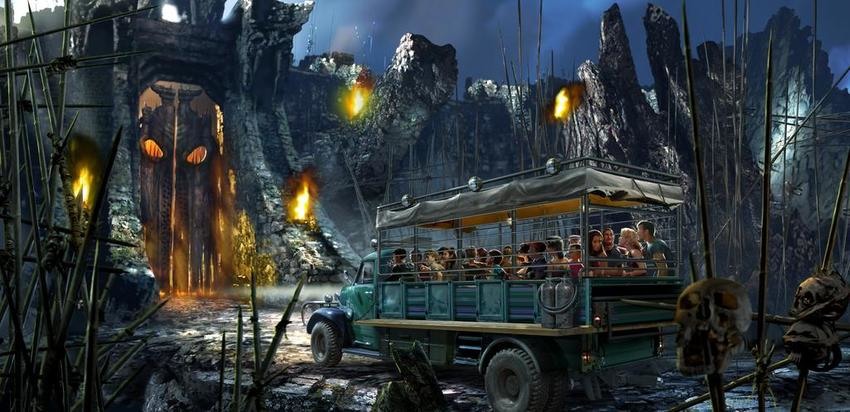 Universal Orlando will bring King Kong back to life next summer in a new ride called Skull Island: Reign of Kong.
The theme park officially announced the attraction on May 6, detailing the ride as an experience that takes guests to Kong's home. However, this time Kong will be found in Islands of Adventure rather than its former home of Universal Studios, where it resided until closing in 2002 to make way for Revenge of the Mummy.
In the middle of the action is Universal Creative Executive Producer Mike West, whom you may remember chatted with me about the new Springfield expansion while enjoying some Duff beers. Good times.
Well, West is back, and this time he's in charge of bringing back Universal biggest character yet. "It's a legendary character. I feel privileged to lead the team that is bringing him back to life for future generations with a whole new story," he said.
Here's what else West could share on the future King Kong attraction:
So why did you pick King Kong? We are getting ready to celebrate our 25th anniversary of the Orlando resort, and Kong has been such an iconic character in the history of Universal films and theme parks. So what better character to bring back into this generation than this character and figure? It was a great opportunity.
What will guests experience on Skull Island: Reign of Kong? We will take guests to Skull Island and to Kong. It's a combination experience of walking through the queue and then the ride. You enter through Skull Island and go through dense jungles, meandering temple ruins and mazes, and along the way, you run into hostile natives and other unimaginable giant creatures on this journey.
What can you share about the ride? A lot of tension and excitement. When you get on the expedition trucks, the first part is outdoors approaching the 72-foot-tall great wall. There are beautiful wooden doors and flames shooting on each side. You then drive up through the doors and you enter a dark cavernous cave with deep chasms with other creatures within. You'll take another turn where you are submerged further into this island where it becomes a fight for survival meeting small and large prehistoric creatures face-to-face.
Will there be new technology we've never seen before? Absolutely
OK, is that something you are not allowed to tell me? Absolutely
How big is this ride in terms of complexity? There are so many parts of this that will be new for us and the guests. Just the scale of it is so enormous. The ride vehicle is one of the biggest we have built. But the scale, while big unto itself, seems to fit the environment.
Any features from Universal Hollywood King Kong 360 coming over? We have 3-D imagery. But, in the context of Hollywood, it was used out there as part of the film. Ours isn't film. It's about creating an environment with great 3-D imagery, but with a whole new facet to it. I call it "multi-experiential."
How long will the ride be? I don't know the timing, but I can tell you the ride is one of the longest, if not the longest we have done. Transformers and Spider-Man, which are long, are about 4 minutes.
Why did you decide to build it in Islands of Adventure and not in its former park of Universal Studios Florida? We had a big space at Islands of Adventure that we could use and not have to tear anything down. It's located between Toon Lagoon and Jurassic Park.
What do you hope to hear from tourists after their first ride? Two things: "I want to go back on that" and, maybe a day later, "How did they do that?"