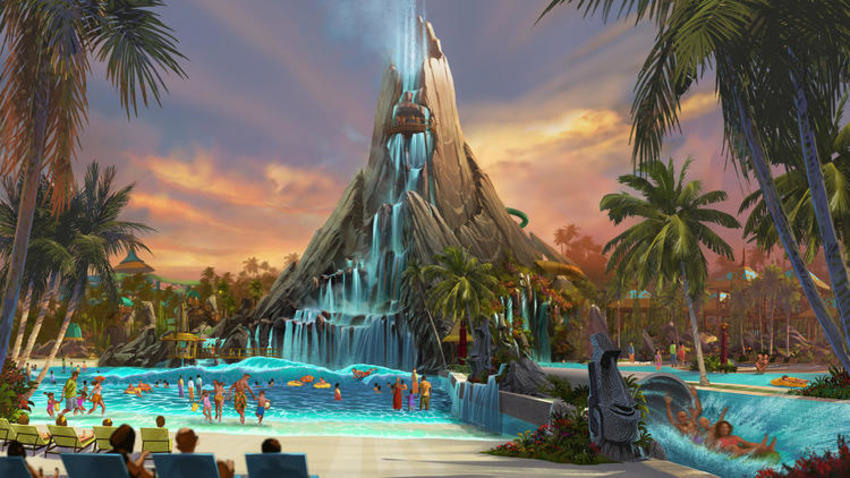 Universal Orlando is touting a reimagined experience for water-park fans when Volcano Bay opens in 2017. "Called Volcano Bay at Universal Orlando Resort, it will join Universal Studios Florida and Universal's Islands of Adventure and become the resort's third incredibly immersive park," reads a Universal Orlando press release.
A rendering released today shows a few new details. It depicts a smoking volcano with a platform near the top. A clear tunnel near that platform appears to contain a water slide, with people pictured exiting the tunnel below, outside a wave pool.
The volcano is the focal point of Universal's rendering. At the base of the volcano is a walkway that goes toward the center under a waterfall and what appears to be a viewing platform for guests to stand on. Two other slides, one green and one yellow, are also depicted.
In February, Universal Orlando submitted plans for the water park, which is being built on 53 acres to the south of its Cabana Bay Beach Resort. The park will also include a lazy river and rapids ride, according to plans.
Volcano Bay will be the sixth water park in Central Florida and the second owned by NBCUniversal, the theme park's parent company. Two are at Disney, one is at SeaWorld, and another is at Legoland Florida in Winter Haven.
A document from International Drive Resort Area Chamber of Commerce had previously shown that Universal's new water park open in fall 2016.
The 2017 opening follows years of expansion and renovation at the theme park. The park's wildly popular The Wizarding World of Harry Potter – Diagon Alley opened in 2014. A King Kong attraction called Skull Island: Reign of Kong and the Loews Sapphire Falls Resort are slated to open in 2016.
The themed water park will be a completely immersive experience aimed at families, Universal said. "It will be a whole new generation of experience that reimagines what it means to be a water park," Universal said in its release.